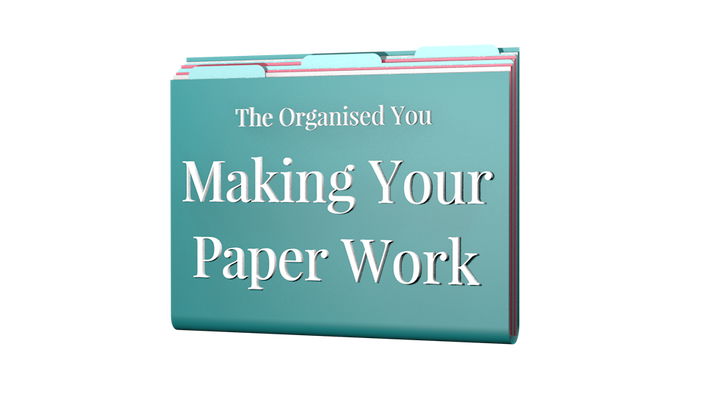 Making Your Paper Work
Tame your paper clutter with confidence using effective systems to reduce overwhelm, and increase productivity
ENROLL NOW
Does any of this sound familiar?

Feeling stressed and overwhelmed. Despite your best efforts, the paper piles build all too easily on your kitchen bench or office desk, and the clutter makes you feel anxious every time you glance at it. You often find yourself lying awake at night stressing over the tasks you might have missed, the bill you haven't paid, the form that's probably lost in the pile...

Dreading the task. You know you need to sort through your paper backlog - all that paperwork stacked in boxes in the home office, or within filing cabinets, or piled high in the garage. But you just can't find the motivation, the extra time or the willpower. You find yourself asking "when and how am I ever going to be able to sort through all of that?!"


Frustrated by systems that never seem to last long. You're sick of the paper clutter piles, and you're fed up with the time wasted trying to find what you need, but you don't know the best strategy to turn things around. You feel like you've tried different organising systems that seem to work for others, but nothing ever seems to stick!


Unsure of where to start. Even though you know this is an area you desperately need (and want) to be more organised in, you have no idea what to focus on first, or where to start. There are millions of systems you COULD try and loads of strategies you know COULD work, but you have no idea (or confidence in) what you SHOULD do.


If you raised your hand to any (or all!) of these statements, then it means you're in exactly the right place!
YOU DON'T HAVE TO KEEP LIVING LIKE THIS.

But nothing will ever change if you don't do something different to what you've always been doing.


WOULDN'T IT BE NICE IF YOU HAD A CLEAR,
STEP-BY-STEP SYSTEM TO FOLLOW?

Wouldn't it be so much easier if someone could hold your hand through the whole process and show you exactly what needs to happen, and in which order, so you'd not only have your paperwork organised, but also have less of it?!
Introducing: Making Your Paper Work
The complete A-Z plan for getting your paperwork organised and under control by creating effective systems that allow you to be more productive, and achieve a greater sense of calm and order in your home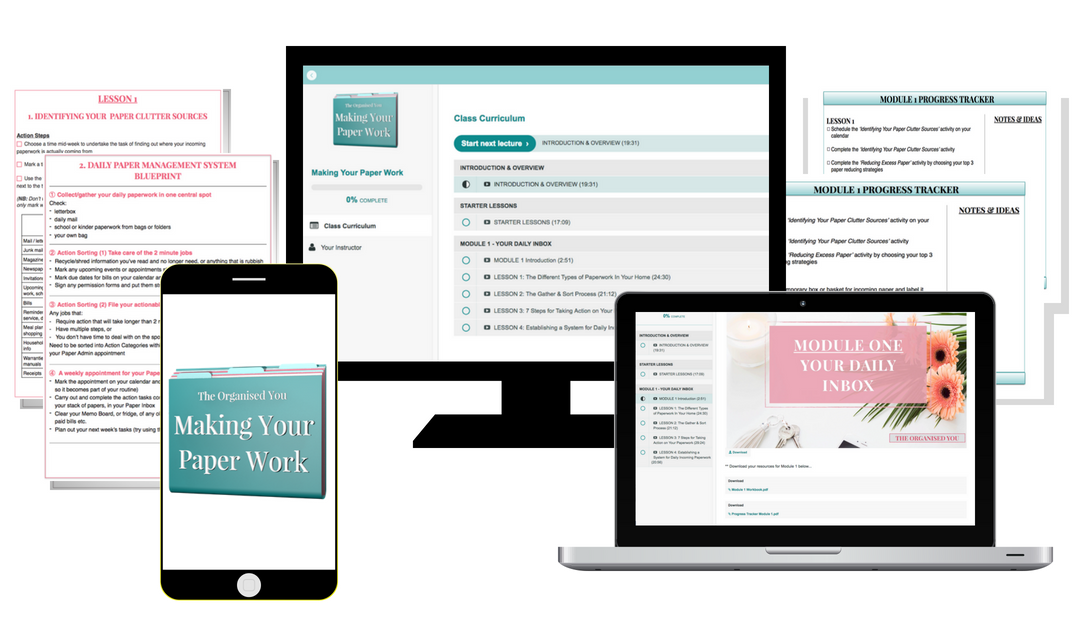 I created Making Your Paper Work to share the EXACT systems and strategies I use in my own household to ensure that our paper clutter is kept to a minimum, and I am always on top of our paperwork tasks.

Things weren't always this way, though...

When my son was born in 2011, I became a full-time stay at home mum, something I had always longed to do.

But one thing that hadn't occurred to me was that I'd have to get used to being surrounded by all of our 'stuff' 24/7.The designated dumping ground became the kitchen bench - piled high with daily mail, catalogues, newspapers, forms, bills, phone chargers... #alltheclutter!
These messy piles really started to frustrate me, and made me feel overwhelmed and anxious every time I looked at them (which was often!).
I knew things had to change, and that I needed some new systems to better manage our household.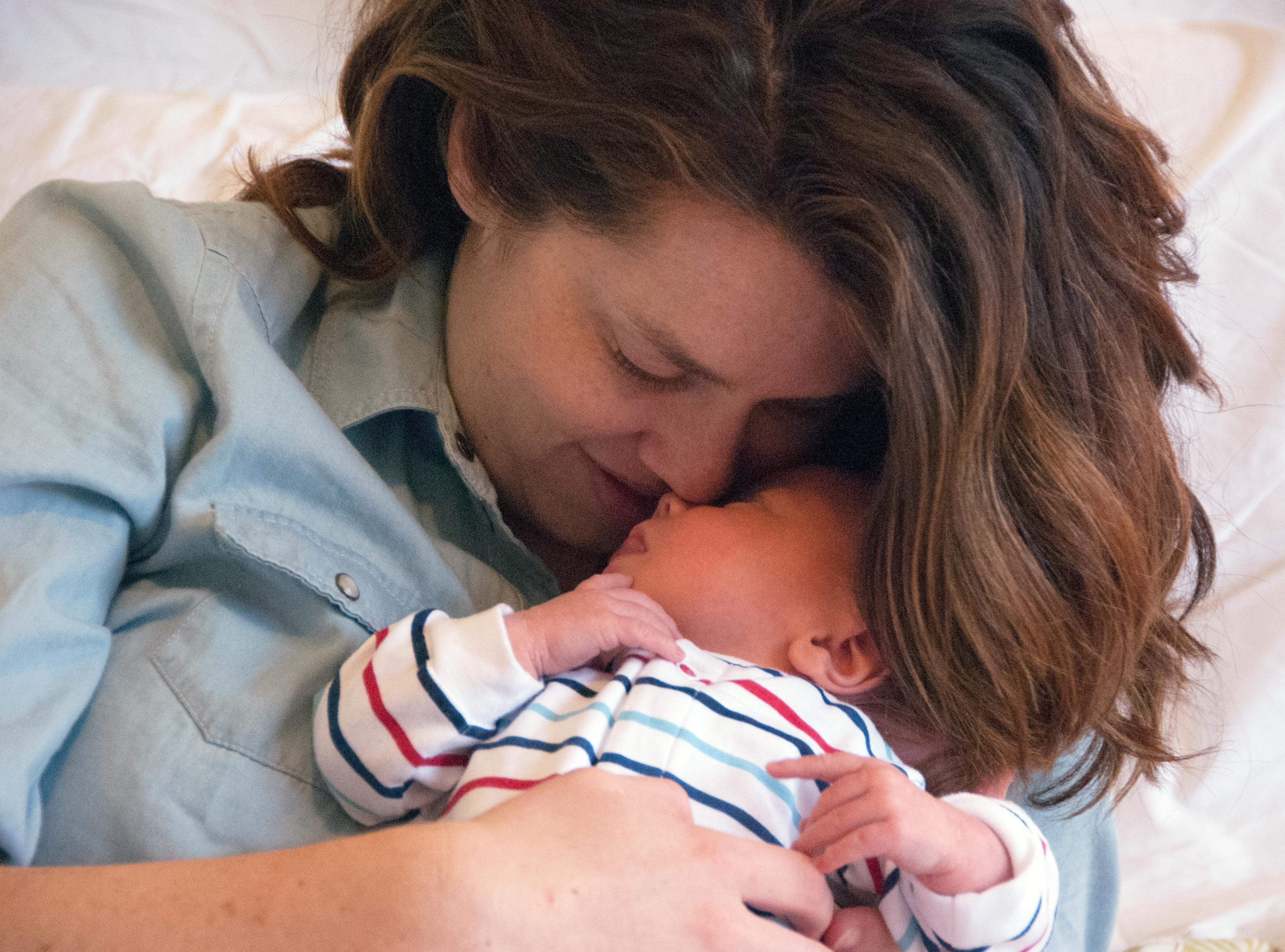 After many hours of researching, and months spent experimenting with and trialing different systems, I created a new, easier approach that completely restored the calm and balance to my life.
These days I have:
→ An efficient system for dealing with our daily incoming paperwork
→ Easy reference binders that hold our important household and financial information
→ Paper and digital filing systems that are straightforward to manage and maintain
→ A functional and organised command centre

→ Great strategies for storing and organising our kids' papers and artwork
→ A paperless approach where possible!
I no longer dread having to deal with paperwork, because I know I'm not wasting time, energy and effort finding what I needed or dealing with a particular task.
I'm sharing this with you because I know that a new approach to your paperwork can dramatically change your life, and lead to a many positive personal benefits such as:
✓ improved energy levels
✓ less stress and worry
✓ a greater sense of ease and calm
✓ increased productivity
✓ a more organised and balanced approach to your day
✓ more quality time each and every day....
If you do things right the first time out!
"I used to be constantly thinking about all I had to get done. Now since doing the Making Your Paper Work course, my days are actually more enjoyable because there's no underlying stress about what tasks I need to get done. I can't believe I've developed such simple administrative processing skills that have made such an impact on my life. I wish I'd learnt this years ago!"
~ Dusk, Melbourne
In Making Your Paper Work, you will learn:
* How to create easy and effective systems for managing the paper that enters (and already exists in) your home, so you can always find what you need when you need it
* Strategies for clearing your existing paper clutter in order to create peace of mind, and more order and calm in your household
* Realistic methods for paper organisation that won't take hours to get through, so you can work at a pace that suits you and fits in with your lifestyle
* My own proven process for creating daily paper systems that are easy to manage and maintain, which you can then recreate in your own home
* Simple time management practices that will encourage you to be more productive, and feel more in control of the 'busy-ness' of life!
* Effective and realistic ways to create more calm, order and balance in your life


This program is designed to eliminate the endless frustration, overwhelm, and wasted time and energy.
The goal is to bring you back a greater sense of control and peace of mind!
HOW DOES THE PROGRAM WORK?
As soon as you enroll in Making Your Paper Work, you will have instant access to the 5 online modules with accompanying videos and downloadable PDFs.
You will also receive access to detailed Module Workbooks, Progress Trackers, The Productivity Pack and Module Inspiration packs!
There's special bonuses included in the program too, including Starter Lessons, a behind-the-scenes look at my own paper organising process, and email organising hacks... all of which you can access and refer to at any time!
This program is completely self-paced, so you can go through it a way that best suits you and your lifestyle.
"I've learnt how to manage paperwork and stuff in real time using a system that I know works. I always used to leave things in a pile for later, but later never arrived until I needed something and it hit crisis point. Now I can simply take 5 minutes each day and an hour a week and I'm free from thinking about it the rest of the week"

~ Maria, California
WHAT'S INCLUDED IN MAKING YOUR PAPER WORK?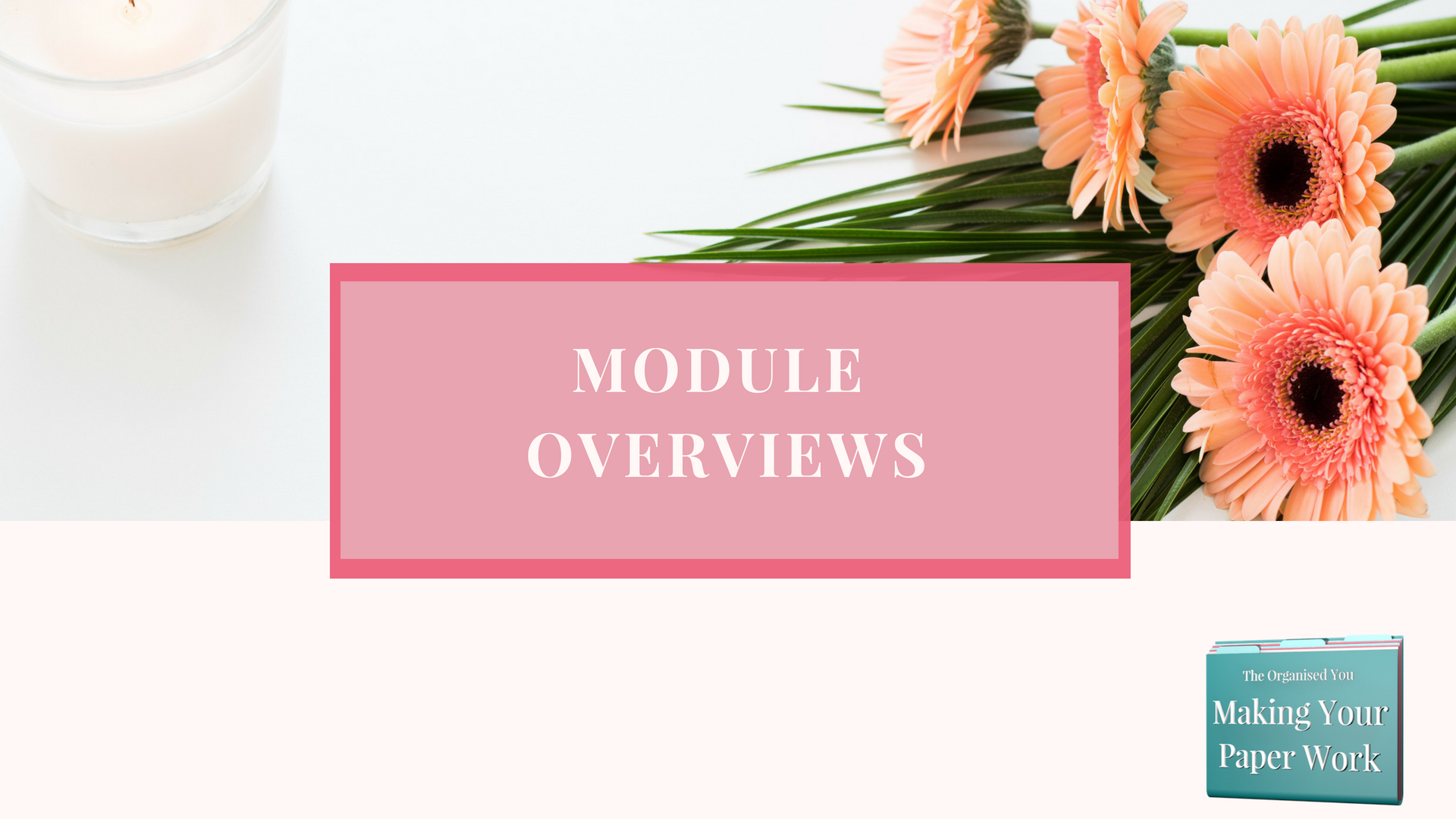 STARTER LESSONS | FINDING YOUR MOTIVATION

The most common paper organisation mistakes and struggles, and how to avoid them

The importance of a flexible approach so you can create positive changes in your life

Why learning your 'paper personality' can help throughout the organisation process

Identifying the reasons and benefits behind why you're wanting to make this change

MODULE 1 | YOUR DAILY INBOX

The different types of paperwork in your home, and how to reduce your paper clutter


How to implement the 'Gather and Sort' process so you can start to clear the paper clutter

The 7 Steps for taking action on your paperwork in order to create more calm & order in your home

How to establish a system for daily incoming paperwork so you are totally on top of your paper-related tasks!

MODULE 2 | CREATING YOUR COMMAND CENTRE
Why you need a command centre and how it could benefit you

How to determine your essentials, priorities, and best location

Strategies for getting inspired to create this new zone without getting overwhelmed

How to gather your supplies and maintain your new space effectively

MODULE 3 | EASY REFERENCE SYSTEMS
The best household reference systems, and which ones would be best for you in order to create more calm and consistency

How to set up your Household Management Binder

Effective strategies for getting on top of and managing your financial paperwork so you can feel more in control of where your money is coming in and going out

The best strategies for organising those 'pesky papers' in your home, such as loose recipes, magazines, newspapers, coupons, receipts, warranties and manuals

MODULE 4 | TACKLING THE PAPER BACKLOG
Simple practices for setting goals and deadlines for tackling your paper purging

Strategies for making decisions quickly and easily around your paper clutter, so you feel confident when it comes to the sorting process

How to create a truly effective paper filing system that will allow you to find things quickly and easily

The ins and outs of setting up digital filing systems using Evernote, and how to create this 'paperless' system for your household

MODULE 5 | ORGANISING YOUR FAMILY
How to deal with kids' papers on a daily basis so you can always feel on top of the incoming paper

The steps behind creating a School Memory Box for those precious school memories

How to store and organise special memories, such as cards, letters, photos and memorabilia

Strategies for planning your time so you can ditch the overwhelm, learn to prioritise and feel more calm, productive and in control!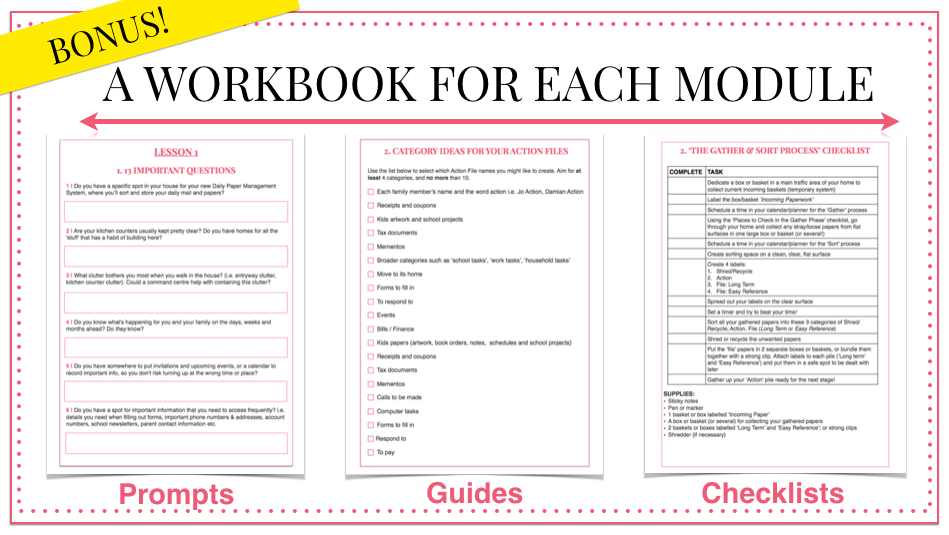 A detailed workbook for each module with helpful activities, guides, blueprints, cheat sheets and checklists, so you can feel confident in the decisions you make and the new systems you're creating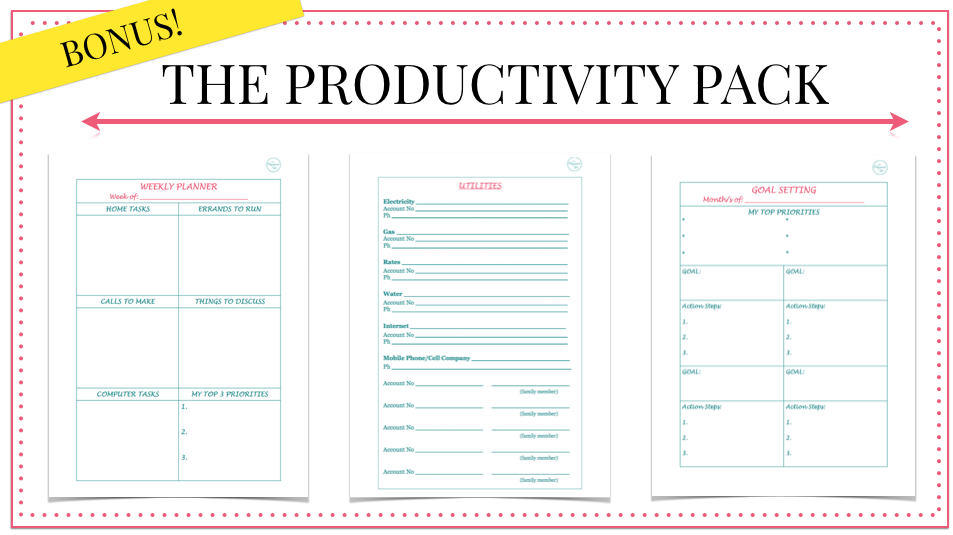 A 30-page pack of helpful printables and templates so you can create
working organised systems for your home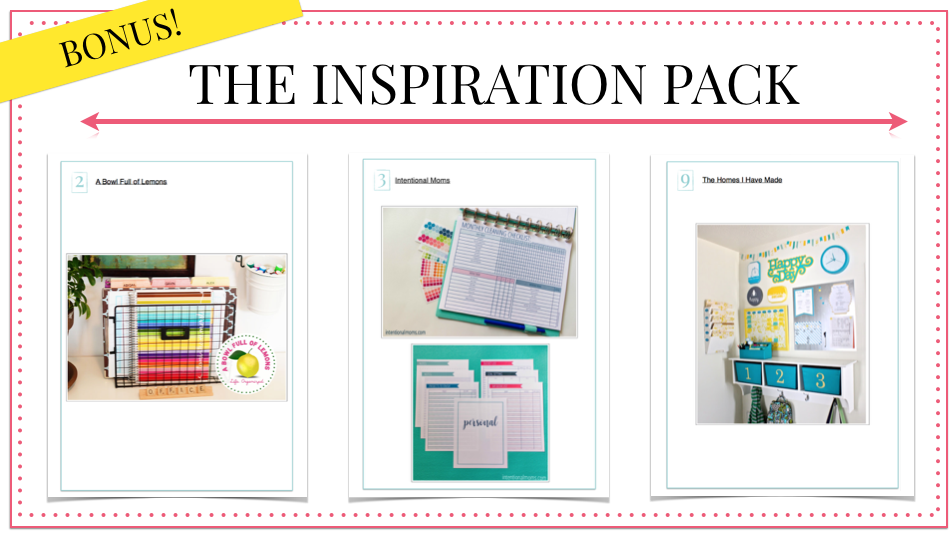 An Inspiration Pack is included with each module so you can discover new ideas and take inspiration from other people's systems that are working effectively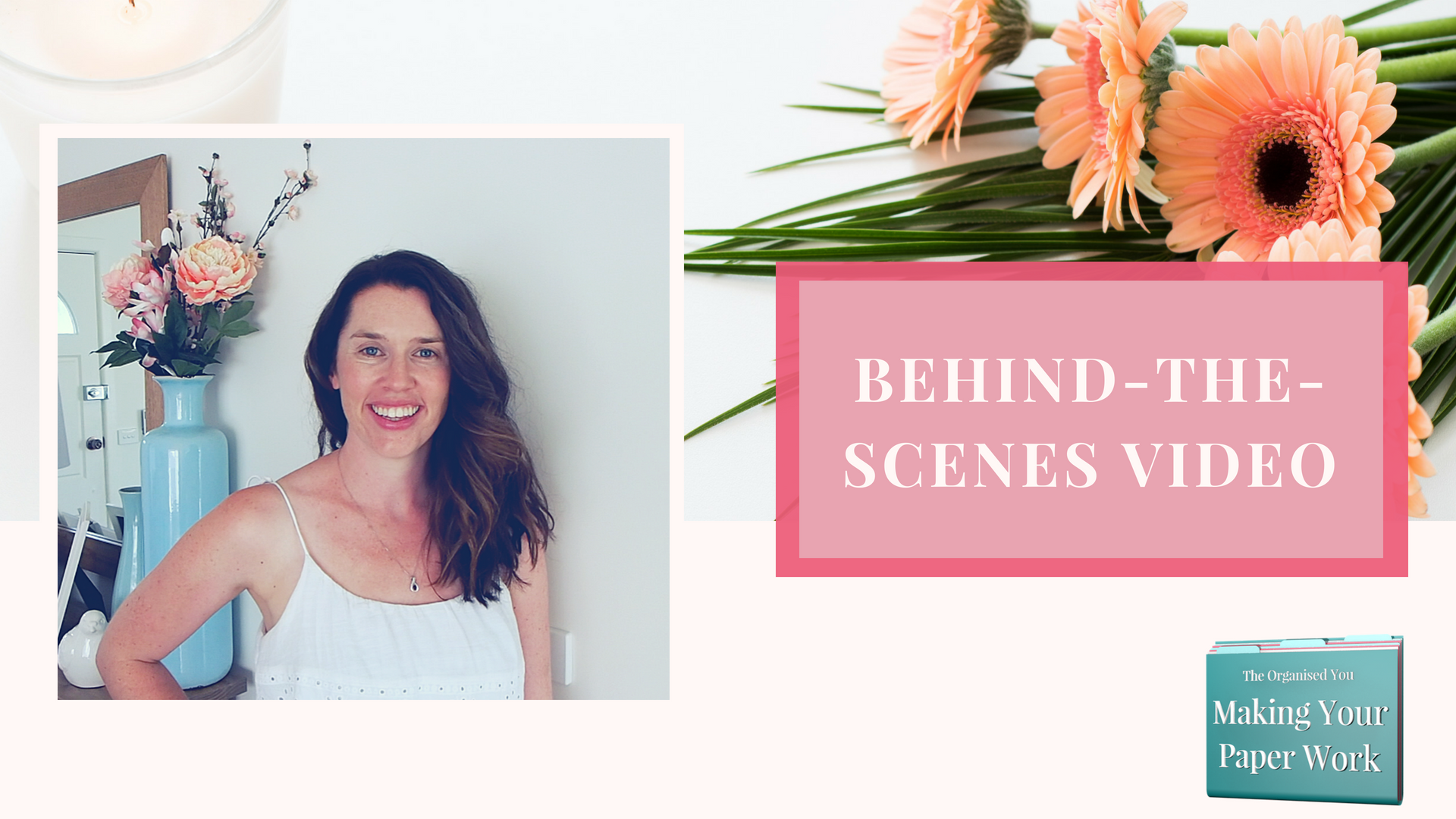 SPECIAL BONUS 1
A behind-the-scenes video tour of my exact paper organising process. You'll see the steps from A-Z of how I organise our paperwork & manage our household tasks productively & efficiently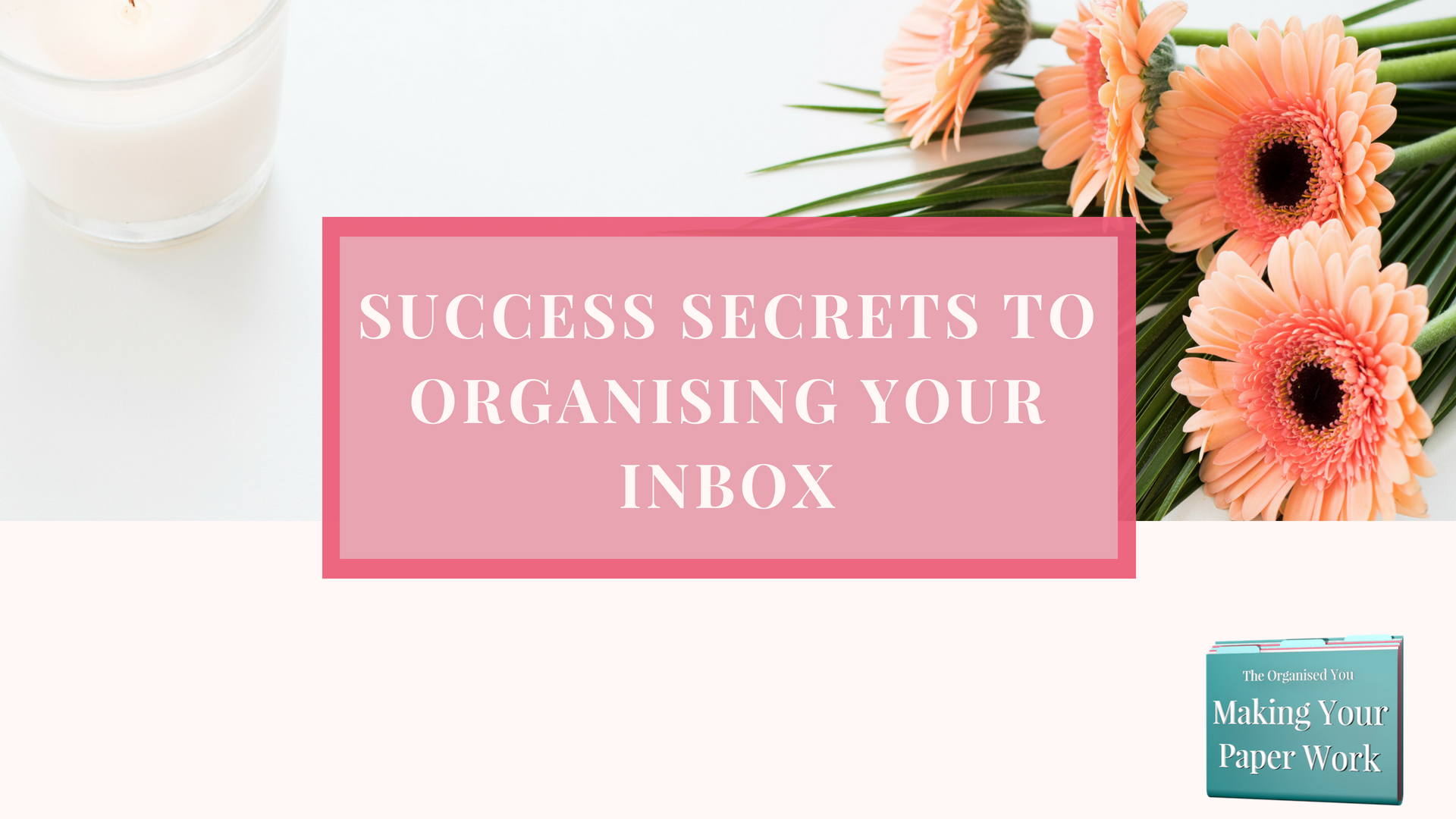 SPECIAL BONUS 2
The confidence boosting blueprint that teaches you the step-by-step approach to taming your inbox clutter once and for all!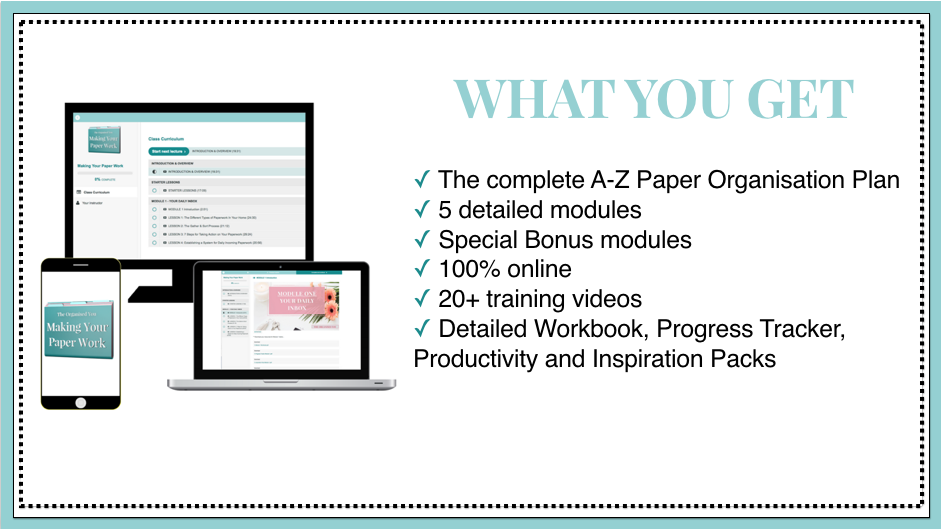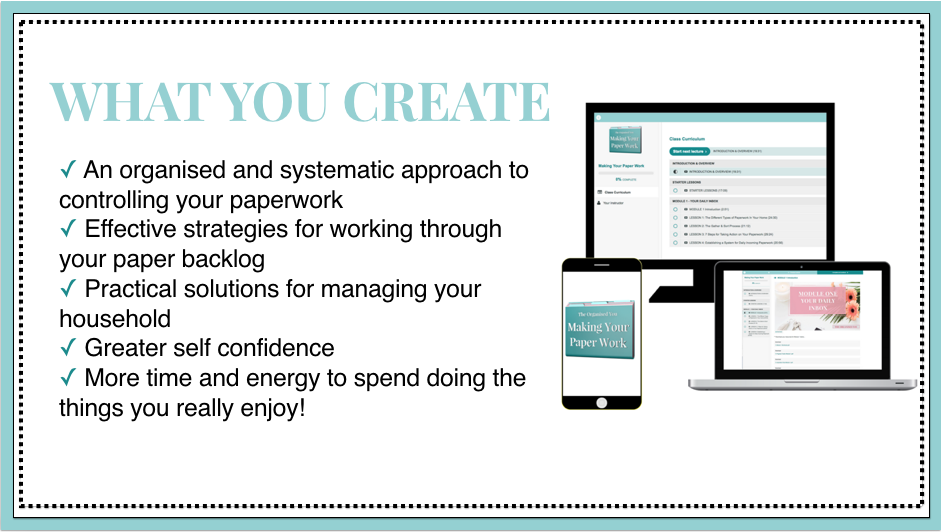 "I feel so much lighter now and confident in my ability to stay on top of all the things that comes with living in our world. I'm so thankful for all I've learnt. Thanks Jo!"

~ Lisa, Melbourne
Your Instructor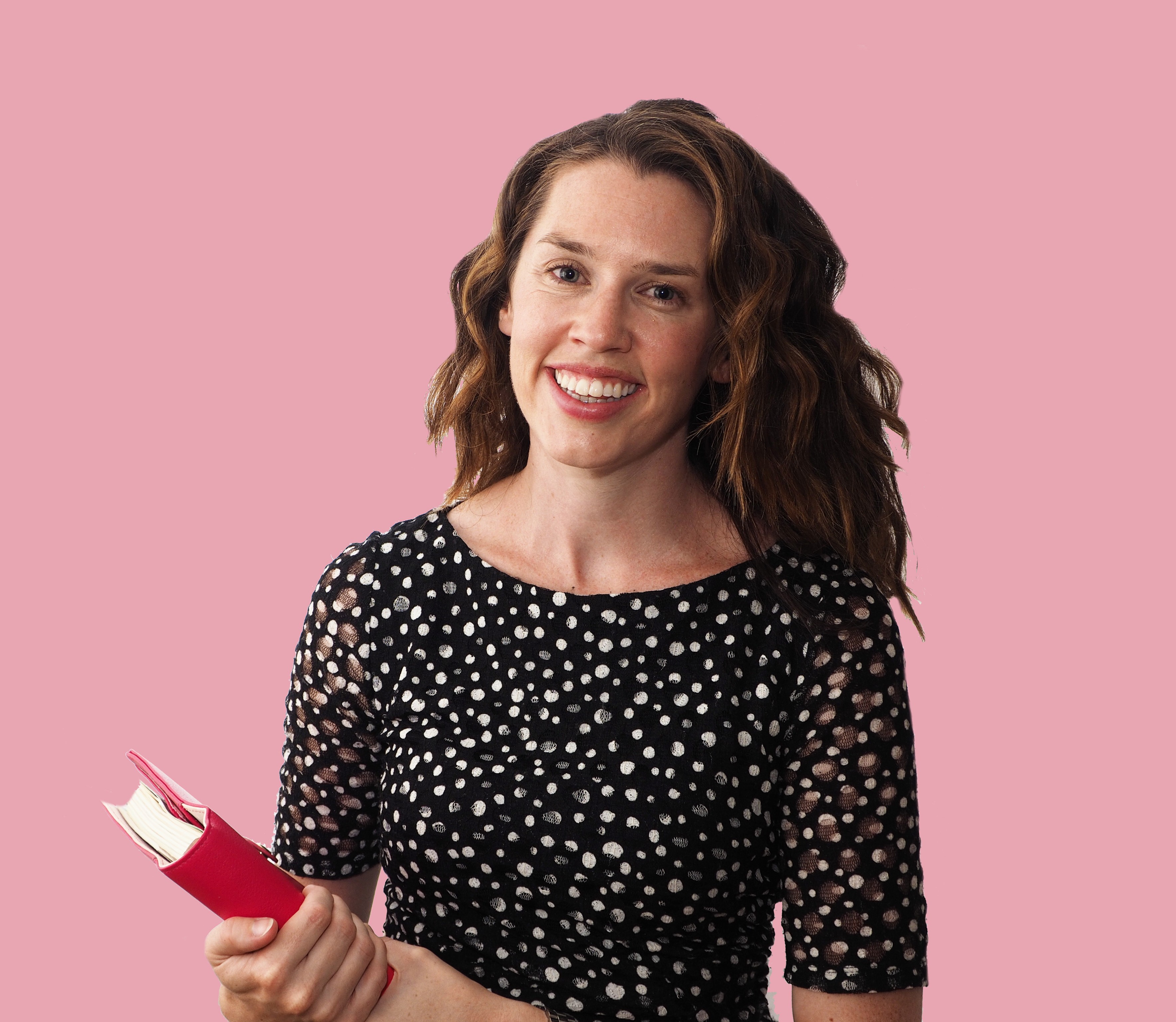 Hey there! I'm Jo Capicchiano and I'm the founder of The Organised You, where I teach busy individuals how to create more calm, balance and order in their lives through organisation.

Through my blog, how-to videos, and free resources, I've reached thousands of people and helped them create organised systems in their homes to save time and reduce stress.

As a professional organiser and decluttering expert, I've helped many clients create clutter-free spaces and empowered them with the skills to keep it that way. Now I'm here to teach you how to create a more calm and balanced life through organisation - let's do this!
Frequently Asked Questions
How long do I have access to the course?
How does lifetime access sound? Register once, and for as long as the program exists, you will have unlimited access to the course materials, which includes any new updates that are made over time.
I don't know if I have time to dedicate to this whole process!
Many people believe they don't have enough time in their busy lives to organise their paperwork and set up new systems. But the truth is, the time wasted having paper in disorganised systems is much greater than the time you'd need to dedicate to getting it sorted! The strategies you learn in this program will help you become more efficient, and learn systems to save you a huge amount of time and effort in the long run.
How does this program work?
As soon as you create your account, you will have access to all the material, which includes 5 modules plus Bonuses. Each module consists of 4 step-by-step video lessons, a detailed and comprehensive workbook, a Progress Tracker and an Inspiration Pack. All of the training is online, contained in the private MYPW members-only site.
I'm only really interested in 1 or 2 of the modules... can I just access those ones?
Yes! I have made each module available for individual sale, which you can check out here: courses.theorganisedyou.com. Have fun!
What format is the course content delivered in?
Good question! The program is 100% online, and lessons are shared as video content, transcripts, and a course workbook. So, whether you prefer to read, watch, or listen to the content, you're totally covered!
What happens when I purchase?
(1) Create an account and confirm your email address (2) Enroll in Making Your Paper Work using your preferred payment method (3) You'll receive a welcome email with your login information (4) Receive immediate access to all of the course material.
What if I am unhappy with the course?
I would never want you to be unhappy, so I offer a 30-day refund policy. You may request a refund for up to 30 days after you purchase the course. In order to receive a refund, you must show that you put in the work from the first 2 modules, and watched or read the lessons, filled out your Workbooks, and been through the process of creating your Daily Paper Management System.